One of my goals this year is to travel often and with my sister in Japan for a month, I decided to gift myself a sisters only trip. This last minute holiday with some quick planning turned out great and we ended up covering quite a lot.
Japan is an interesting country with a great mix of old and new which is traditional yet modern, peaceful yet chaotic and somehow has the right amount of quirkiness to add to your travel bucket list. Japan which literally means "The Land of the Rising Sun" is full of majestic temples, impressive shrines, Zen gardens, beautiful towns, scenic mountains and buzzing cities with neon skyscrapers.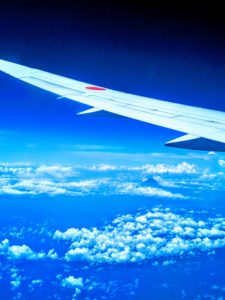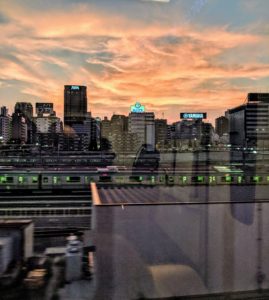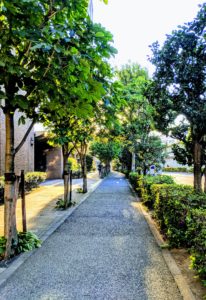 Some fun facts about this fascinating country:
Japan is made up of 4 main islands with 6800 plus smaller islands. About 73% of Japan is mountainous.
Japan has around 5.5 million vending machines with one on almost every street corner – that's around 1 machine for every 23 people.
The Japanese trains are super punctual – average delay is just 18 seconds! If a train is five minutes late, the railway company may issue official delay certificates as proof for employers.
Japan has more than 70 flavours of Fanta and lets not even go to Kit-Kat (it has 300+ flavours).
It is appropriate to slurp noodles when eating in Japan. Slurping indicates the dish is delicious.
Napping on the job—called Inemuri is a real thing in Japan. Sounds perfect right?
Anyways, since I had only four days – I spent 3 days in Tokyo and did a day trip to Mt. Fuji & Hakone.
Top Things To Do in Tokyo :
Asakusa Temple –
Also called Sensoji, it is the most popular and colourful temple in Tokyo. This Buddhist temple is the spiritual heart of Tokyo and a good place to start your day. Once you enter from the Kaminarimon Gate what stands out is the temple's main hall and a five storied Pagoda.
During the walk towards the temple, you cross the Nakamise Dori street which is lined with small shops selling souvenirs.  Great place to buy some gifts to take back home. Also, do try the rice cakes/crackers and green tea-flavored ice-creams while roaming the street.
Best time to visit: Early morning to avoid the crowds.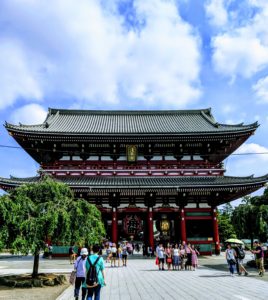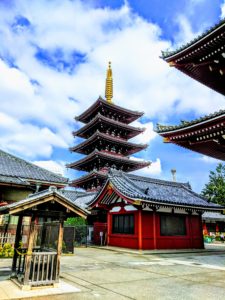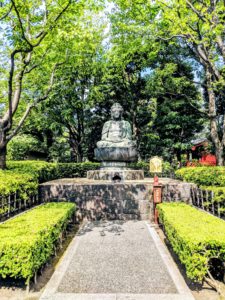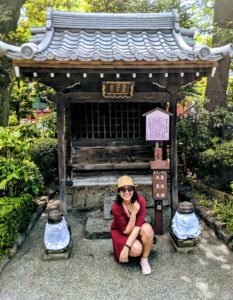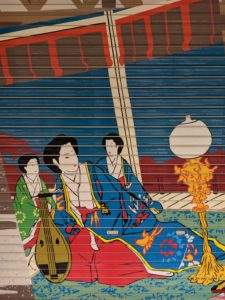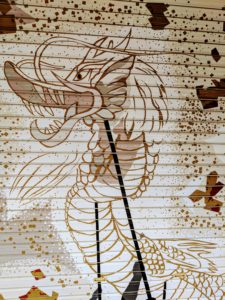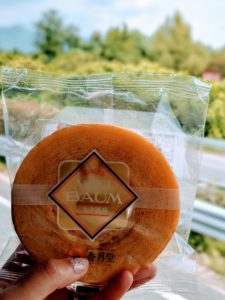 Meiji Shrine & Yoyogi Park
This Shinto shrine is situated in the middle of a 170-acre forest and is dedicated to Emperor Meiji and his wife. Emperor Meiji is said to be the first emperor of Modern Japan. After the death of the Emperor, over 100,000 trees were donated by people in Japan and they worked voluntarily to create this forest. As soon as you enter the massive Torii gate, you leave behind the hustle and bustle of the city. The main complex of shrine buildings is a 15 minute walk through the forest. At the temple  – you can write your wish on a wooden plate (Ema). Also if you're lucky, you may even witness a traditional Japanese wedding ceremony.
Tip: You can pray like the locals too – say your prayer and bow your head twice, clap your hands and bow once more.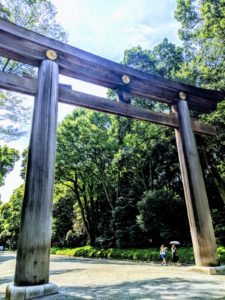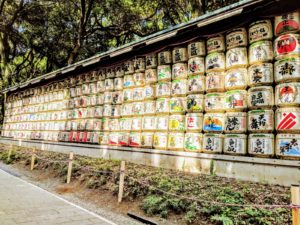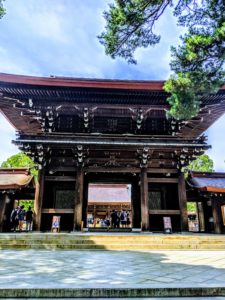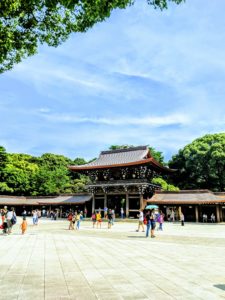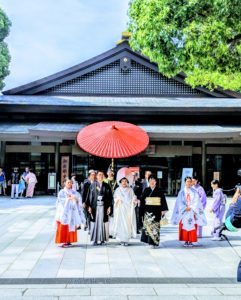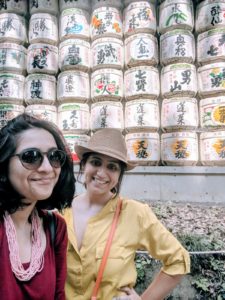 Tokyo Imperial Palace
The official residence of the Emperor of Japan, it was the former site of the Edo castle. Near the East gardens, you get to view a small part of the palace along with the double bridge. If you have time, do visit the gardens as they are beautiful.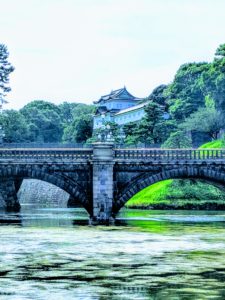 Shibuya Crossing
With bright lights and lots of pedestrians – this is Tokyo's version of Times Square. People walk through the intersection from 7 different angles. For the best view above, head to Starbucks.
Also you could see Hachiko near the Shibuya station. This is the statue of the most loyal dog in Japan.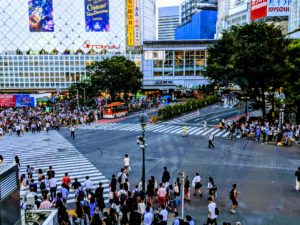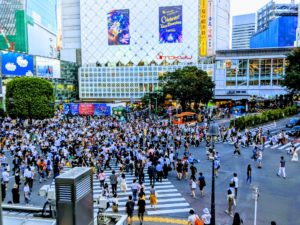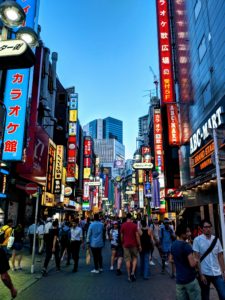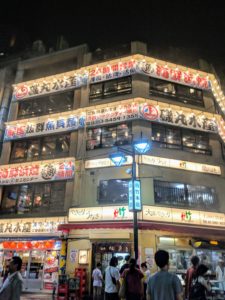 Tokyo Sky Tree
At 634m (2,080 feet), this is the tallest building in Japan. The two observation decks that have wide windows which offer great views of Tokyo and the river Sumida. On a clear day, you can see Mt. Fuji too.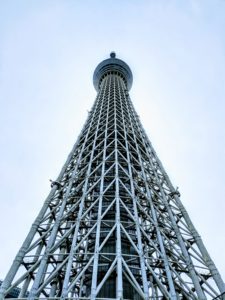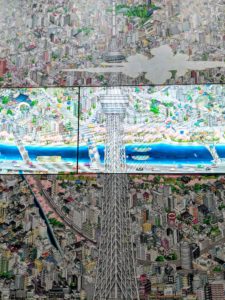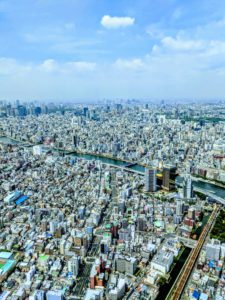 Themed Cafés
Famous for quirky and at times bizarre themed cafes – Tokyo has it all from maid cafes, robot cafes, cuddle cafes to animal cafes. We decided to do an animal cafe as the others were just too weird for us and we were surprised by the number of options.  Move over dog & cat cafes – Japan has hedgehogs, owls, reptiles and even goats!
We visited the Owl Village at Shibuya and these fluffy creatures stole our hearts with their distinct and friendly personalities.  Say hello to our favourites – Alto, Chai and Latte!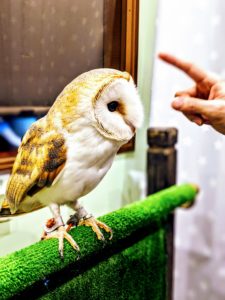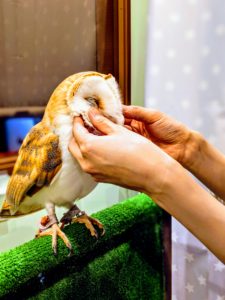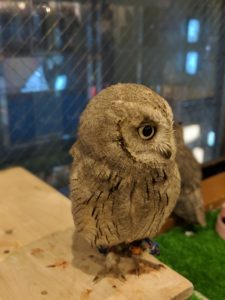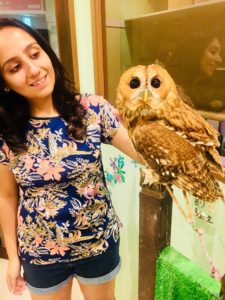 Shinjuku
Also called the entertainment district, Shinjuku is one of the largest neighbourhoods in Tokyo and has a lot of restaurants and shops.
Akihabara
This district is famous for cheap electronics, anime and games. Gadget geeks tend to go crazy here!
Fireworks Festivals
Tokyo has a range of Fireworks festivals in summer and we were lucky enough to witness one. The  Adachi Fireworks Festival is held towards the end of July and attracts over 600,000 people, who line up along the banks of the Arakawa River.  This year was the 40th edition of the Annual Festival, with a display of around 13,600 fireworks!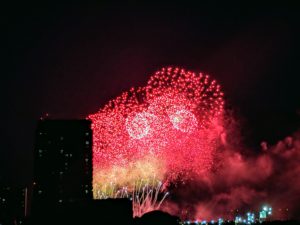 Quick Tips :
Since language can be a problem – staying connected while travelling is a must. I got a pocket-sized personal WiFi hotspot from the Airport.
The Official Japanese travel App has all the information needed while travelling.
Also, Google Translate was a go-to app for translating menu and labels.
Some useful words to know:
Hello: Kon'nichiwa
Goodbye: Sayonara
Thank you: Arigato
How much? Ikura
Yes: Hai
No: iie (pronounced as "ee-ye")
That's all for now – Sayonara ! 🙂
Next up on the blog is the Mt Fuji & Hakone day trip.