Split, the capital city of Dalmatia (2nd largest city in Croatia) is a perfect blend of rich history and great nightlife which is why it is incredibly fascinating and super fun. To be honest, we simply loved this picturesque port city, its waterfront, the vibrant town, narrow streets with hidden alleys.
Split has so much to offer – you can explore the old town, hike up the Marjan hill (for the best view of Split), visit beaches, hop on ferries and visit nearby islands or just relax at the always buzzing promenade with dozens of bars and restaurants. Also, Game of Thrones fans can fancy a walk in the streets of Meereen and Braavos. And if that is not enough – Split also hosts Ultra Europe, the famous EDM festival!
We were in Split for almost 4 nights and loved every bit of it!
Things to Do :
Explore the Old Town & remains of Diocletian's Palace: This UNESCO world heritage site is where we recommend you begin with. We did a self-guided walking tour (courtesy –  Me and my beloved lonely planet 😉 ). This 4th-century seaside palace was built as a retirement home for the Roman Emperor.
We started at the Golden gate at the Gregory of Nin (Grgur Ninski) statue and spent the next 2 hours exploring the remains of the Palace  – We covered the basement, church bell tower, Peristil square saw Egyptian sphinxes near the Jupiter temple. What I loved was the maze of lanes where one could easily get lost and somehow end up discovering a new place /street!
Highly recommended: Luxor Café hosts live music every night during the summer months – the perfect place to just sit back and relax at the open-air pavilion (Peristil Square).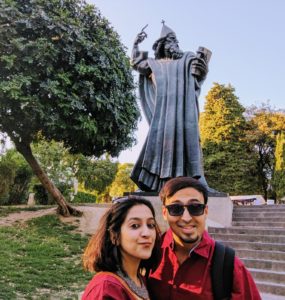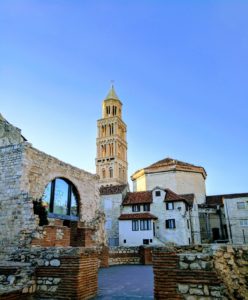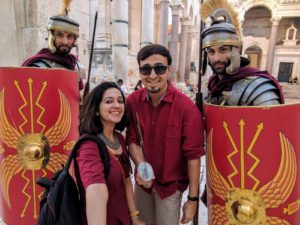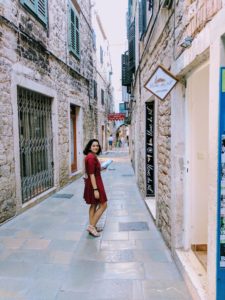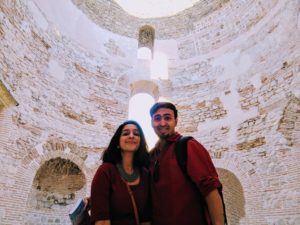 Spend endless hours at The Waterfront / Riva / Promenade :  Lined with cafes and palm trees, this was our go to place from breakfast to dinner to sipping drinks all day long! The Riva is the most happening place and time literally stops for you to enjoy!
Hike up the Marjan Hill for the best view of Split : Although this hike can be strenuous but so worth it! You get breath-taking views of Split, the harbour, pine forests and the surrounding mountains.
Our tip : Best time to visit the Marjan Hill is during sunset.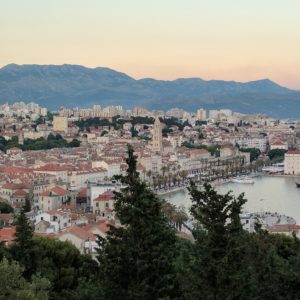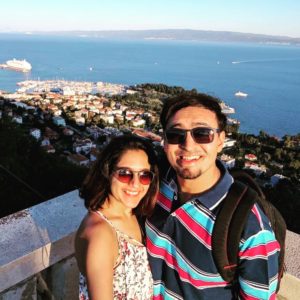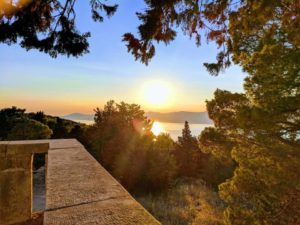 Enjoy the Beaches / Short morning trip to Brela : While Bacvice is Split's most popular beach, we decided to be a little more adventurous and head towards Brela. This small town about 50 kms away from Split has undoubtedly the longest and prettiest coastline in Dalmatia. With its crystal clear waters, 6km of pebble beaches and pine tree forests, it is a must visit.
Our tip: The easiest way to reach Brela is by car/ taxi. We took the local bus ( yup, we love local transport) – and it dropped us about 2 km away from the beach (literally in the middle of nowhere). It's a lovely walk downhill and takes about 20 mins. The walk back up to the bus stop can be a task, but gorgeous views make up for it!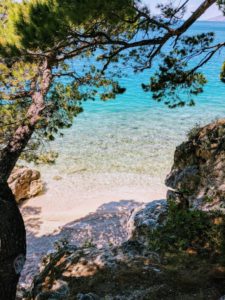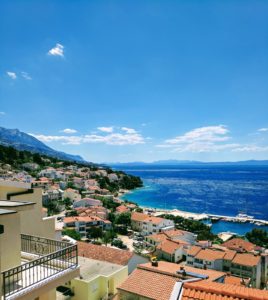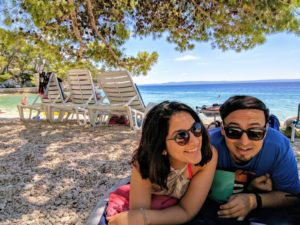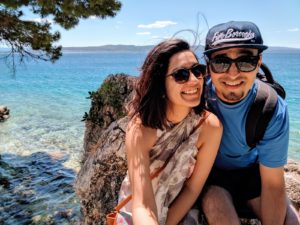 A Day trip to Brac & Zlatni Rat : Zlatni Rat (Golden Cape /Golden Horn) is often rated as the most beautiful and unique beach in Croatia and hence had to be on our itinerary. We took the ferry and spent the whole day lazying on this gorgeous island.  We did spend some time on our way back at Supetar – the port town. This charming town with picturesque views to the port, multiple sea-side restaurants as well as the main cathedral is worth a quick visit.
Our tip: As soon as you get off the ferry – you have mini vans. They charge around 50 kuna per head and drop you right near Zlatni rat beach. It is convenient, takes lesser time and almost the same price as the local bus! Plus the driver acts as a local guide and tells you fun stories!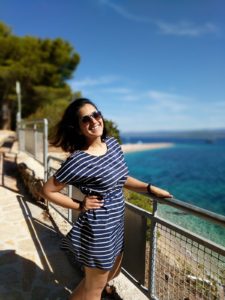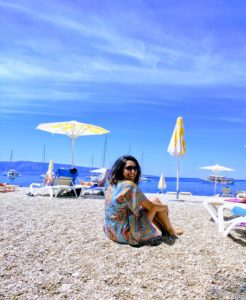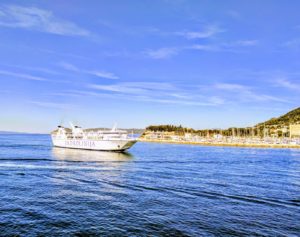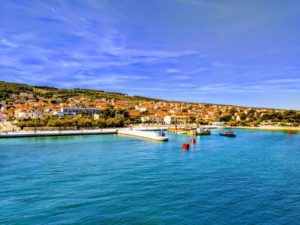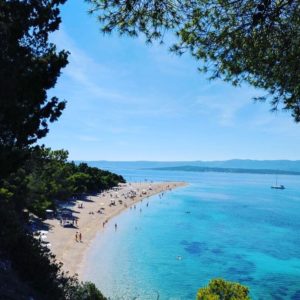 Fun Fact 4 : Brac is known for its top-notch olive oil and limestone. The white stone is known worldwide and was used to build Palace of Diocletian in Split, the Parliament House in Budapest and apparently even the White House in Washington!
Kayaking around Brela : This was one of the major highlights during our trip to Croatia.  While Croatia has plenty of places where you could kayak – this unexplored part of Brela was a hidden gem and a true paradise for us. We kayaked over 8 kms around the rocky and beautiful coast surrounded with spectacular mountains to reach a quaint little bay. We took a tour from Adventure Dalmatia. Our instructor was super cute and a Game of Thrones extra – so we got quite some gossip! 😉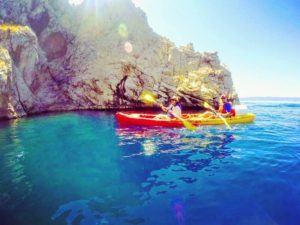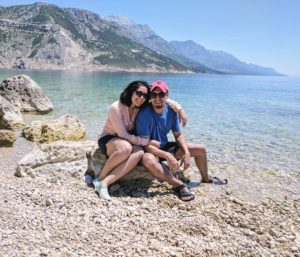 Where to Eat?
Toto's Burger Bar – for the tastiest burgers in Split.
Zinfandel Food & Wine Bar – With a reputation as one of Split's best wine bars, make sure you have a reservation.
Corto Maltese Freestyle Food – They have a great menu and we loved the breakfast here!
Kokolo juice and smoothie bar – Our go-to place for take away cocktails
Where we stayed ?
Split – Guesthouse Villa Scalaria  – This was one of the best places we stayed in Croatia. The guesthouse is B&B style, located at the end of the promenade, a 5 min walk away and right at the start of the Marjan hill steps. Walking distance to bars, restaurants. We spent about 4 nights here. Ultra modern, airy and spacious rooms with huge bathrooms.
Extremely neat and clean. No breakfast, but they do have tie ups with restaurants right outside for breakfast menus. Price : 110 Euros a night.
Local transportation tips ?
We used the Jadrolinija  site to book our main transfers upfront. You can easily get them a day before as well. During peak season it is recommended to get them in advance!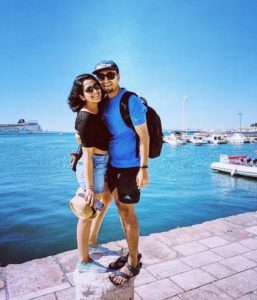 Coming up next – 24 hours in Hvar!
Do leave in your comments! 🙂