Built upon a granite hill is the magnificent Alila Fort Bishangarh. This 230-year-old warrior fort, with its splendid architecture and panoramic views of the Aravallis, is definitely one of the most fascinating heritage properties in Jaipur. With a simplistic design, different from the other forts and palaces in Rajasthan – the fort stands out with its 4 meter thick ancient walls, arched windows and towering turrets.
Interestingly, it is only warrior fort to be converted into a luxury hotel and took around a decade to restore and was completed in 2017. To retain its authenticity every old piece of the original fort has been reused and the broken elements were recreated. It is a unique example of Jaipur Gharana architecture which is influenced by both the Mughals and the British.   The fort has 59 rooms with 22 different layouts with spacious interiors and large windows that open up to beautiful views of the village and the Aravallis.
Just a 3.5 hours' drive from Delhi or 30 mins for Jaipur, this picturesque fort is a great weekend getaway.  We spent our time taking in the stunning views, exploring hidden passages and satisfying our taste buds with sumptuous meals.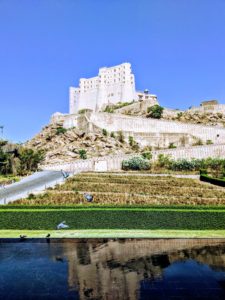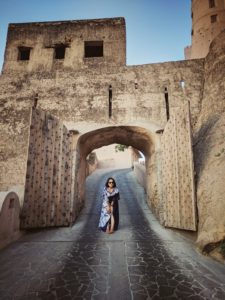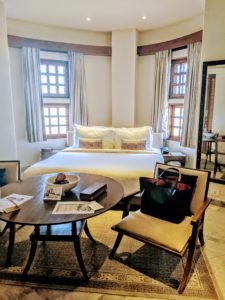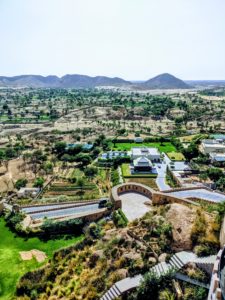 Things to Do –
A cultural walking tour of the fort. Learn about the history, see hidden passages and gardens.
View the sunset from the terrace. You can also see the sunrise if you are a morning person!
Spend some time in the beautifully done library, situated near the courtyard.
Take a stroll in the organic garden.
Cycle around the charming Bishangarh village
Laze around in the swimming pool or visit the spa
They also include a daily list of activities to do including yoga, a Rajasthani food masterclass, morning walks etc.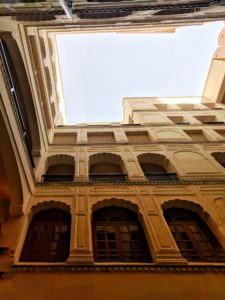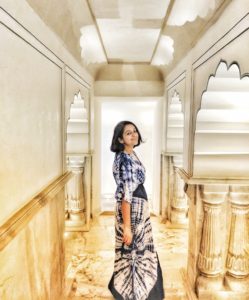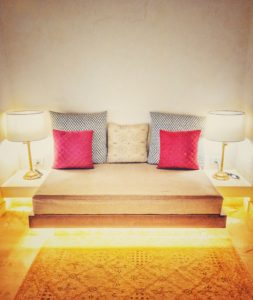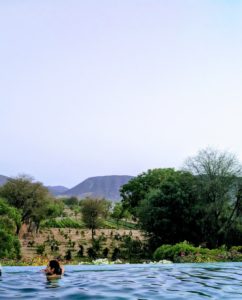 Dining Options –
Amarsar – the all-day restaurant. We had our breakfast here and what we loved was that unlike most breakfast buffets, this was a la carte and it is served hot directly at the table.
Nazara – an outdoor grill dining terrace. We had a lovely 3-course dinner here which included some authentic Rajasthani dishes.
Kachhawa Lounge – for the 4 Cs – champagne, coffee, chai and cakes.
Madhuveni – the bar and cigar area.
The warm and friendly staff go out of the way to make you feel comfortable.
Best way to reach there –
Firstly – do not follow google maps. It takes you off the highway through some narrow villages with practically no roads.  This is on your way to Jaipur – you take go via the Manoharpur Bishangarh link road – from there you can follow the Alila hotel signs. It is about a 6 km drive off the highway.
Sharing some more pictures!