Croatia : What holiday dreams are made of !
Croatia is an Eastern European country along the Adriatic Sea with over thousands of dreamy island getaways.  We spent 10 days in this beautiful country and have so much to share that we decided to write about it.
Before we begin, I will try to answer the most common question that people asked us –
Why Croatia ?
While Europe has some of the most beautiful travel destinations, Croatia (one of the youngest countries in the region) and its beautiful islands are what holiday dreams are made of.
While I can think of 100's of reasons why one must visit – here are the top ones –
Perfect mix of ancient old towns, beautiful coastlines and crystal clear blue waters. Croatia has something for everyone – from spectacular white pebble beaches, national parks with picturesque lakes, party islands as well as rich cultural port cities.
Stunningly diverse landscape – from mountains on one side to the sea on the other. It's a sight to behold. One of our favourite pics from the trip was during a drive to Brela.
Lot of activities to do from hiking, cycling, kayaking, canyoning, rafting, sailing, fishing, wine tasting etc. You name it and they have it !
They are so many ways to explore the country – you could sail or take a road trip or a cruise – whichever way you travel, you are guaranteed to fall in love with Croatia!
Croatia is the home to some of the most gorgeous and dramatic sunsets.
The Croatian food is a mix of Mediterranean and Italian. Also they locally produce some great wine & olives.
And last but not the least – Game of Thrones 🙂
If you love historical cities, architecture, beautiful islands, nature and refreshing waterfalls all in one place along with great food (that's quite important to us – after all we are on a holiday) then Croatia should be the place you travel next!
Also don't go hoping for sand – Croatia is all about pebble beaches!
We will let the pictures do rest of the work now!!!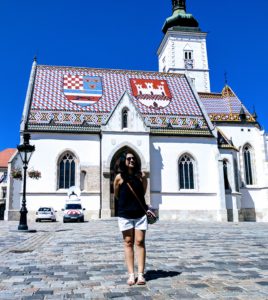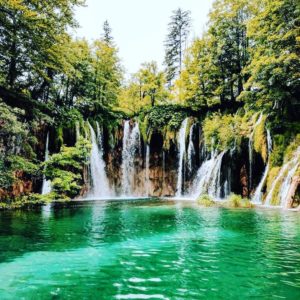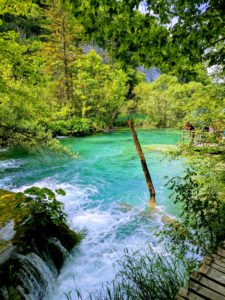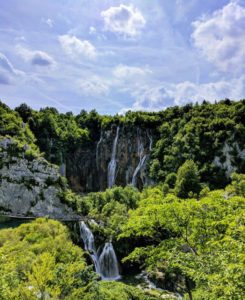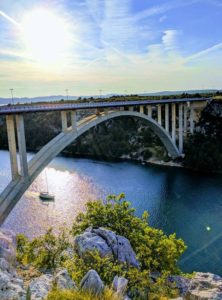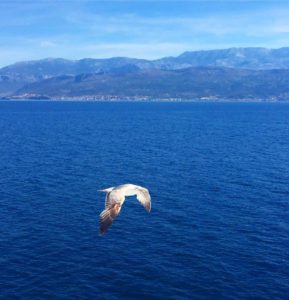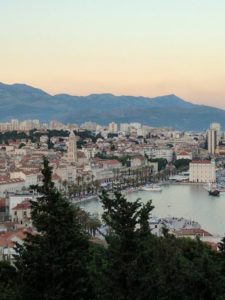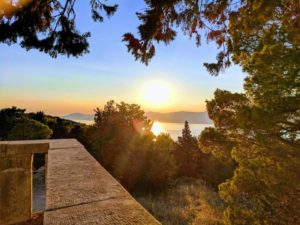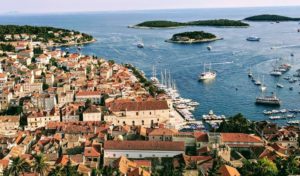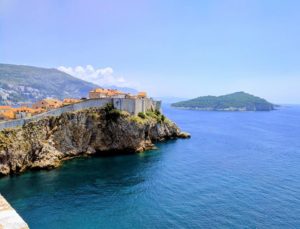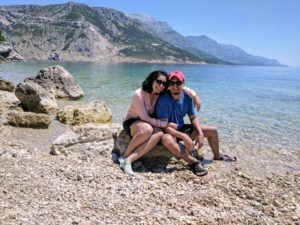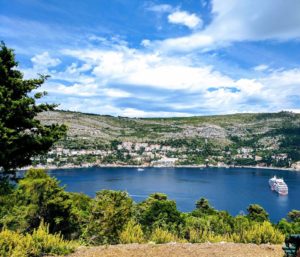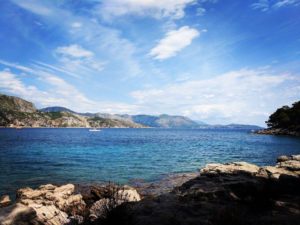 Our Itinerary :
Croatia is divided into 4 regions with Dalmatia being the most popular one amongst tourists with most of the well-known cities & islands like Split, Zadar, Dubrovnik, Hvar, Brac. This beautiful country with its diversity has so much to offer that we took a few months to plan the itinerary and decide on which cities/ islands/ national parks to cover.
Croatia has a lot of interesting and fun facts that we picked up during our travel and we will be sharing those across our stories!
Fun Fact 1 : Since we just referred to the Dalmatian region – interestingly that is where the breed of dogs  "Dalmatians" got their name as they used to guard the borders of Dalmatia. While the origin is still largely unknown it is debatable as to where the breed originated.
Coming back to the itinerary –
Day 1 : Zagreb – the capital city of Croatia. This charming little city is often overlooked with most tourists heading straight to Split or Dubrovnik. In our view, it's a must do – it is unlike other European capitals, unique mix of history, symbolic architecture and food!
Day 2 : Plitvice Lakes and drive to Split – Croatia is home to ten beautiful and magical national parks, we decided to visit the oldest and the largest National Park – Plitvice.  Listed as a UNESCO world heritage site, Plitvice has 16 interconnected colour changing lakes ( yes, from green to aquamarine to cobalt blue to grey depending on the sunlight and minerals). You would instantly fall in love with the rickety walkways over lakes which are surrounded by waterfalls. We took a tour from Zagreb to Plitvice (with a drop at Split) from Split-excursions.com.
Days 3 – 5 – Split and day excursions to Brela, Zlatni Rat (Brac) – Split the capital city of Dalmatia is less touristy than Dubrovnik and well-connected to the other islands, we decided to make it our base for the next few days. You can explore the old town, hike up the Marjan hill (for the best view of split), visit beaches or just relax at the always buzzing promenade with dozens of bars, restaurants and shops. Also Game of Thrones fans, can fancy a walk in the streets of Meereen and Braavos.
Day 3 – We spent first half of the day at Brela – its 50 kms from Split and has the most beautiful beaches that go on for almost 6 kms. Crystal clear water, pine trees on the beach make it truly a paradise. We spent the rest of day exploring the old town of Split and did a self-guided walking tour.
Day 4 – Brac & Zlatni Rat – We took the ferry and spent the whole day lazying on this gorgeous island. Zlatni Rat is often rated as the most beautiful and unique beach in Croatia and hence had to be on our itinerary. Evenings were back on the waterfront promenade in Split.
Day 5 – We spent the first half kayaking near Brela and the rest of the day trekking up the Marjan hill in Split for the best views. Yup, too much exercise for a single day but totally worth it!
Day 6 – Hvar – commonly also known as the Croatian Ibiza is more than just a party island. Known to be the cultural trade center during the Venetian empire it is surrounded by stunning scenery. We spent the day exploring the town, watching the sunset at Spanjola Fortress and obviously partying the night away!
Day 7 – 9 – Dubrovnik – The most visited city in Croatia and now super famous thanks to Game of Thrones was the last leg of our holiday. We spent our time over 3 days exploring the city walls, doing a couple of walking tours, relaxing by the beaches, watching the sunset from Mount Srdj (Dubrovnik cable car), a day trip to Lokrum island and enjoying a few drinks by the cliff bars in Dubrovnik.
When to visit?
The peak season in Croatia is in July – Aug, the water is perfect and you do have some great music festivals. But it is quite crowded and overall expensive.
The shoulder season is June & September which I think is the best time to visit.  We traveled in mid-June, the weather was perfect, water warm enough to swim. It is less crowded and you get to enjoy Croatia a lot more.
Where did we stay?
Zagreb  – Hotel Central
The location is great – about a 5-minute walk from the main square, well connected by tram & local transport. It is cost effective about 80 Euros a night. The rooms are a little small – just had to stay a night so worked for us. Breakfast is ok as well.
Split – Guesthouse Villa Scalaria
This was one of the best places we stayed in Croatia. The guesthouse is B&B style, located at the end of the promenade, a 5 min walk away and right at the start of the Marjan hill steps. Walking distance to bars, restaurants. We spent about 4 nights here. Ultra modern, airy and spacious rooms with huge bathrooms.
Extremely neat and clean. No breakfast, but they do have tie ups with restaurants right outside for breakfast menus.
Price : 110 Euros a night.
Hvar –  Riva Yacht Harbour Hotel
The location is great – right on the promenade, hence it is a little expensive. About 10 steps from the ferry stop – everything else is in walking distance too!
The hotel is well done, neat & clean but the rooms are small. There isn't much room to move around.
The view to the promenade and sea is great. We also had a small terrace which was very nice to enjoy the complimentary wines and the sunset!
Price : 150 – 170 Euros a night (Higher since we had a terrace)
Dubrovnik – Rooms Klarisa Palace
We wanted to stay in the old town and within the Dubrovnik walls. Again only B&B's here and one super expensive luxury hotel. Great location, good and comfortable rooms!
Price : 120 Euros a night.
Must pack items?
Lots of sunscreen – the ones you get there are mainly tanning lotions with SPF. So best to carry your own!
Comfortable walking shoes (lot of hiking to get the best views),
Water shoes for the pebbled beaches ( Crocs work, but incase you don't have them – best to buy in Croatia – lot of cheap options available)
Regular summer clothes and lot of beachwear.
Caps are a must!
Will also be putting up a detailed itinerary city wise – hope you all enjoy reading it!
And before we sign off –Fun Fact 2
The Croatian currency is called Kuna (Kn) which in Croatian means marten. Marten was a weasel-like animal whose fur was used for trading in the earlier days. Croatians love to keep things symbolic and hence continue to use the name, Kuna. On the coins, you will also see the marten animal.
Coming up next – A day in Zagreb and Drive to Split via Plitvice lakes!
Do leave in your comments 🙂